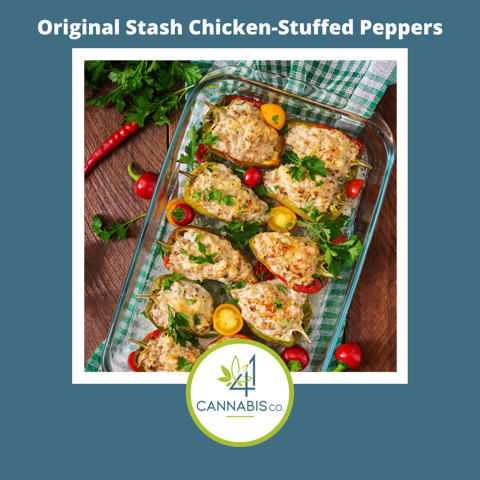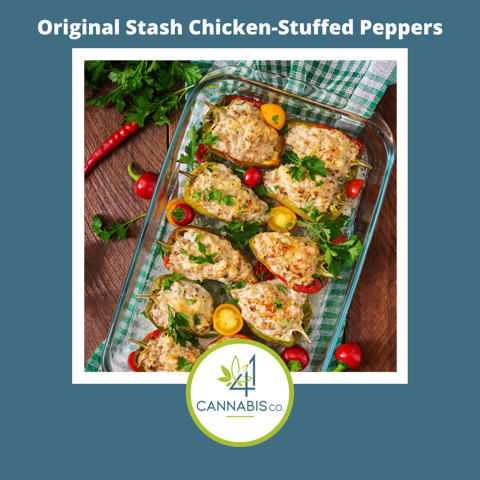 Today's #MunchieMonday recipe is Original Stash Chicken-Stuffed Peppers! Keep reading to learn how to make them.
4 Red Bell Peppers
1/3 Cup Cannabis Infused Mayonnaise (See recipe in Blog, Use Original Stash Sativa or Indica)
1 ½ Cups Cooked Chopped Chicken
1 Cup Chopped Kale or Spinach
½ Cup Cooked Quinoa, Steel Cut Oats, or Wild Rice
½ Cup Chopped Feta Cheese, or Shredded Cheddar Cheese.
Preheat oven to 350 degrees, line a baking sheet with parchment paper.
Cut Peppers in half lengthways and scoop out ribs and seeds and carefully cut stem off with paring knife.
Combine infused Mayo, Chicken, Kale, Quinoa and cheese in a medium mixing bowl and stir well. Add whatever spices you see fit. Divide mixture evenly between the cavities of the peppers.
Bake for 12 to 15 mins or until peppers offer slight resistance when pierced with the tip of a sharp knife.
For a more THC potent meal, replace the 1/3 cup infused mayo with ¼ cup infused mayo and mix with 1 Tbsp of Edible Cannabis Oil. (Recipe on Blog).