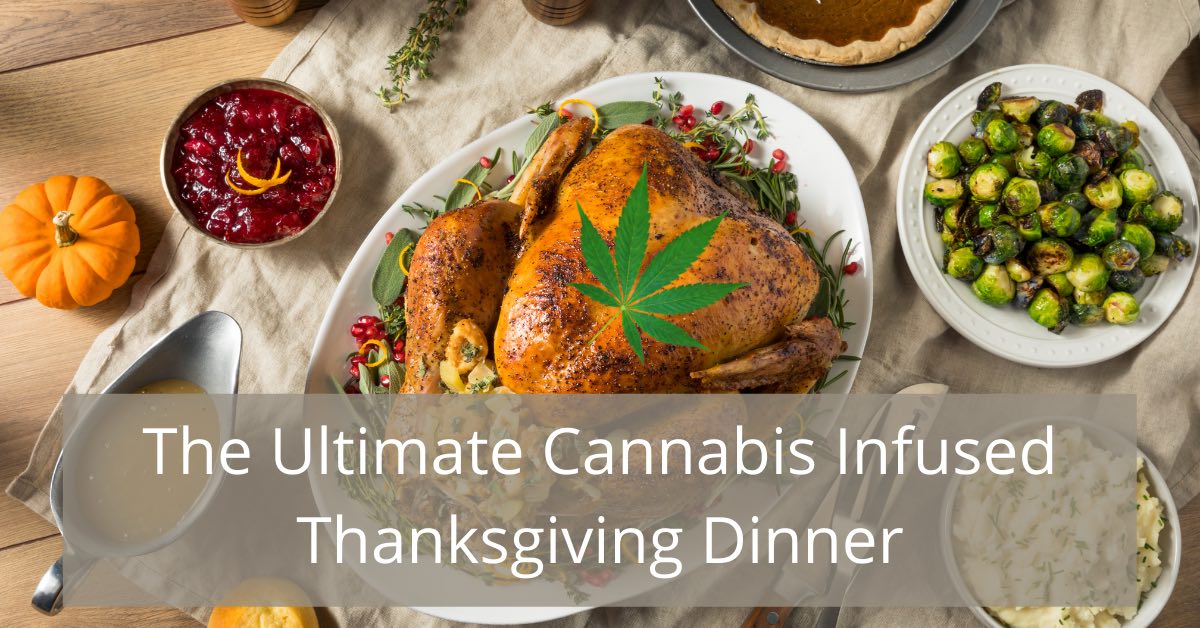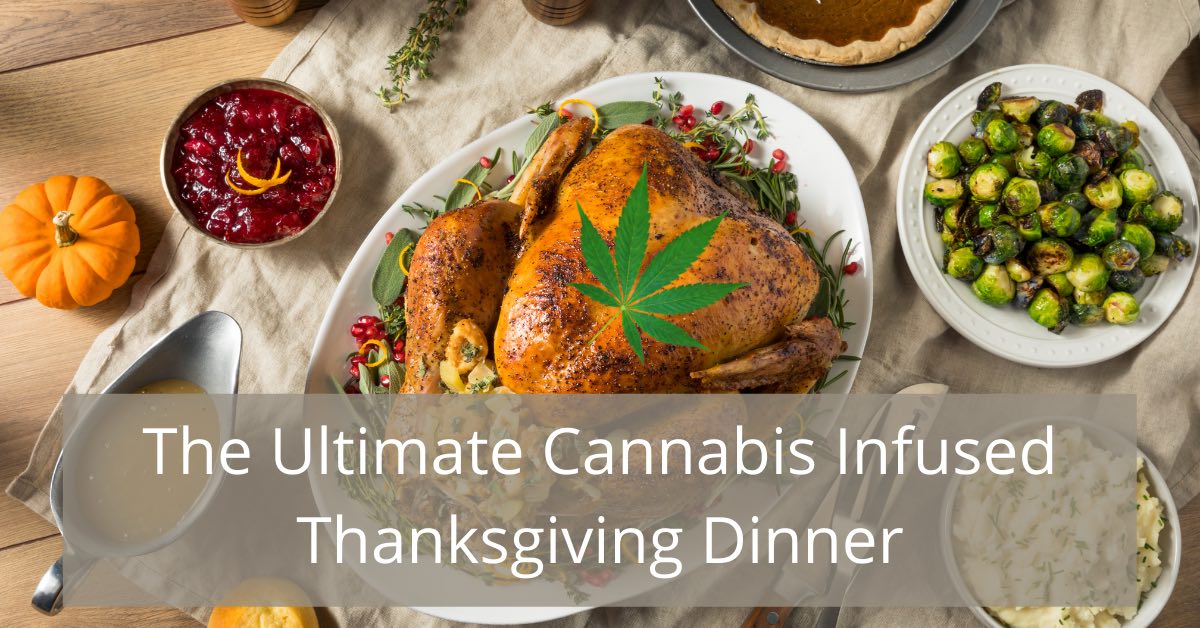 Thanksgiving is next weekend, so that means it's time to start planning your feast! Do you need an idea on how to elevate your dinner? Try infusing your dishes this Thanksgiving, your guests will definitely be munching!
Here are our favourite recipes for this Thanksgiving season!
First things first, you will need to decarb your cannabis, as well as make cannabutter. Check out our blog posts on how to do both.
Link: Decarbing Cannabis
Link: Cannabutter
Thanksgiving Bean Casserole Infused With San Rafael '71 Driftwood Diesel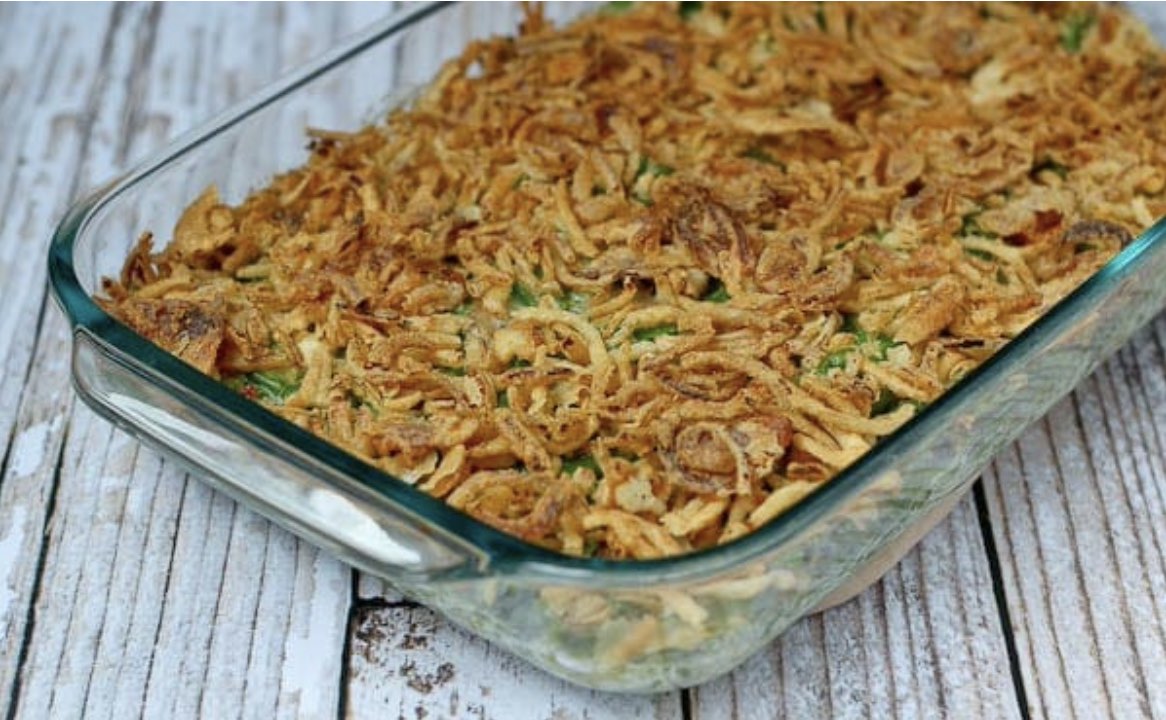 This is not your grandma's traditional bean casserole. Included in this recipe is cannabutter infused with San Rafael '71's new Driftwood Diesel, (refer to our cannabutter recipe but substitute with San Raf's Driftwood Diesel)  bacon, and shredded cheese . What a great way to spice up this traditional Thanksgiving recipe!
Ingredients:
One 750g package frozen cut green beans, thawed (you can also use canned and drained green beans)
Eight slices bacon
10 chopped cremini mushrooms
1/2 teaspoon garlic powder
1/2 teaspoon onion powder
One 284ml can condensed cream of mushroom soup
1/2 cup shredded cheddar cheese
¾ cup of crispy fried onions
¼ cup melted cannabutter
Salt and pepper to taste
Let's put it all together:
Preheat the oven to 350 degrees F and place the green beans into a casserole dish.
Fry the bacon until brown and crispy, remove from the skillet and drain most of the grease from the pan, leaving just enough grease to cook the mushrooms.
Saute mushrooms until tender and season with garlic and onion powder.
Pour in mushroom soup and bring the mixture to a light boil.
Pour the mixture over the green beans.
Crumble the bacon on top and sprinkle in the cheddar cheese.
Cover with the fried onions then brush with melted cannabutter.
Season with salt and pepper, then bake for 20 minutes until the sauce is bubbling.
Serve and enjoy!
Roasted and Smashed Red Potatoes with Herbs Infused with OS.KLIK Granddaddy Purple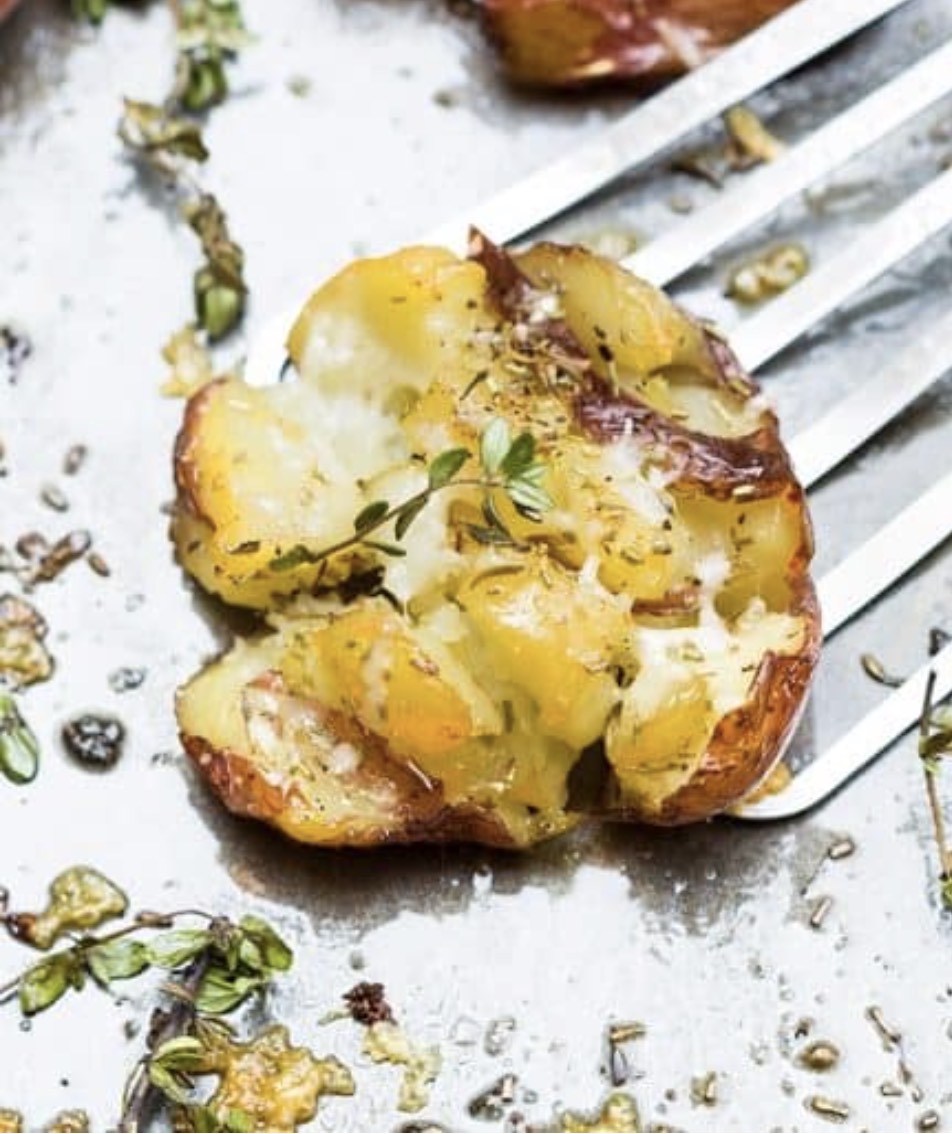 Smashed and Roasted Red Potatoes with Herbs is a delicious and savory side dish using olive oil to infuse cannabis and herbs into an aromatic and tasty cooking oil.
Ingredients:
1 – 2 drops of OS.Klik GDP
3 – 4 teaspoons fresh herbs of choice ( e.g. Rosemary and Thyme)
1/2 Cup Olive Oil
1 teaspoon Kosher Salt
4 – 6 small Red potatoes
Infuse Oil and Herbs:
Add olive oil to the top of a double boiler, add in toasted herbs and let infuse for 30 Minutes . Remove from heat. After oil has cooled add in a klik or two of Granddaddy Purple. Set aside
Cook potatoes:
Boil 4 – 6 small red potatoes for about 30 Minutes or until they become tender.
Drain the water from the potatoes.
Using a folded towel on bottom and another on the top smash each potato gently but firmly with the palm of your hand. Place the potato in a shallow roasting pan lined with parchment paper or foil.
Distribute the infused oil from the previous step into each of the smashed potatoes. (Be careful not to overload with oil and keep it inside the potato as much as possible.)
Salt generously.
Place in an oven at 425° F and roast for 25 – 30 Minutes until the potatoes are browned and crispy. Remove from oven, let cool and serve warm, garnish with more fresh herbs if desired.
Cannabis Infused Cranberry Sauce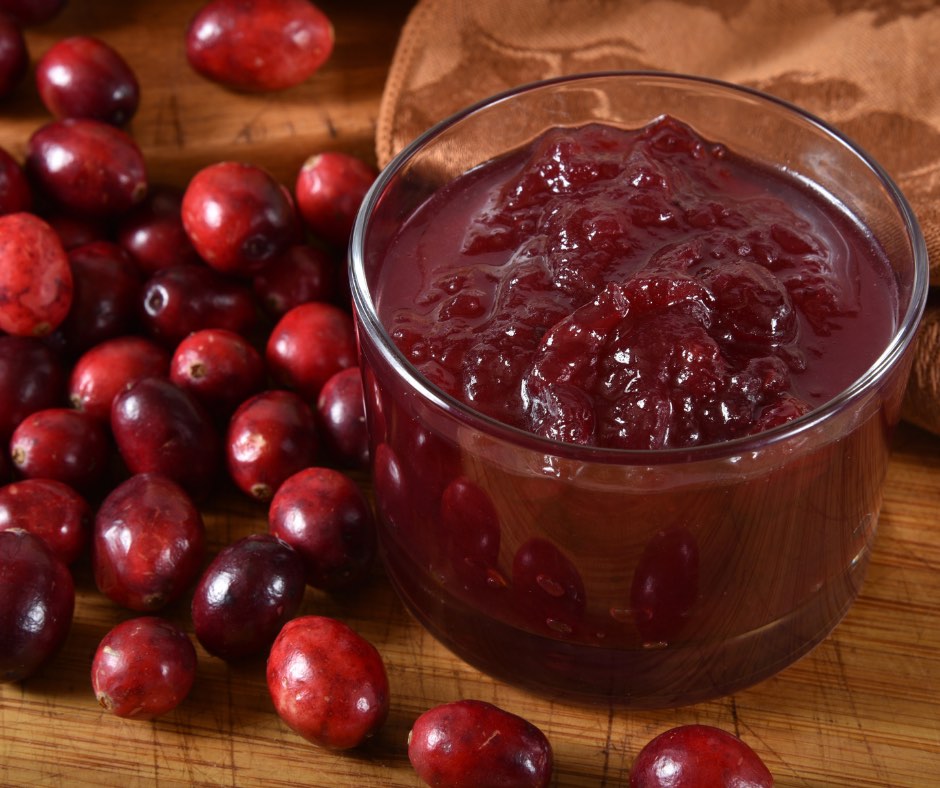 Ingredients
12 ounces fresh cranberries
3/4 cup sugar
1 tablespoon orange zest
1/2 cup freshly squeezed orange juice
1 stick cinnamon
1 tbsp cannabutter (more or less, depending on potency)

Rinse cranberries well and place in a heavy-bottomed saucepan with your sugar, orange zest, orange juice, and cinnamon stick. Stir.
Place pan over medium heat. Cover with a lid and cook for 15 minutes, stirring every 5 minutes to ensure your sauce doesn't burn at the bottom of the pan.
Remove pan from heat and remove the cinnamon stick.
Add in cannabutter and stir until fully melted and combined.
Allow your cranberry sauce to come to room temperature and serve.
Enjoy!
Cannabis Infused Pumpkin Pie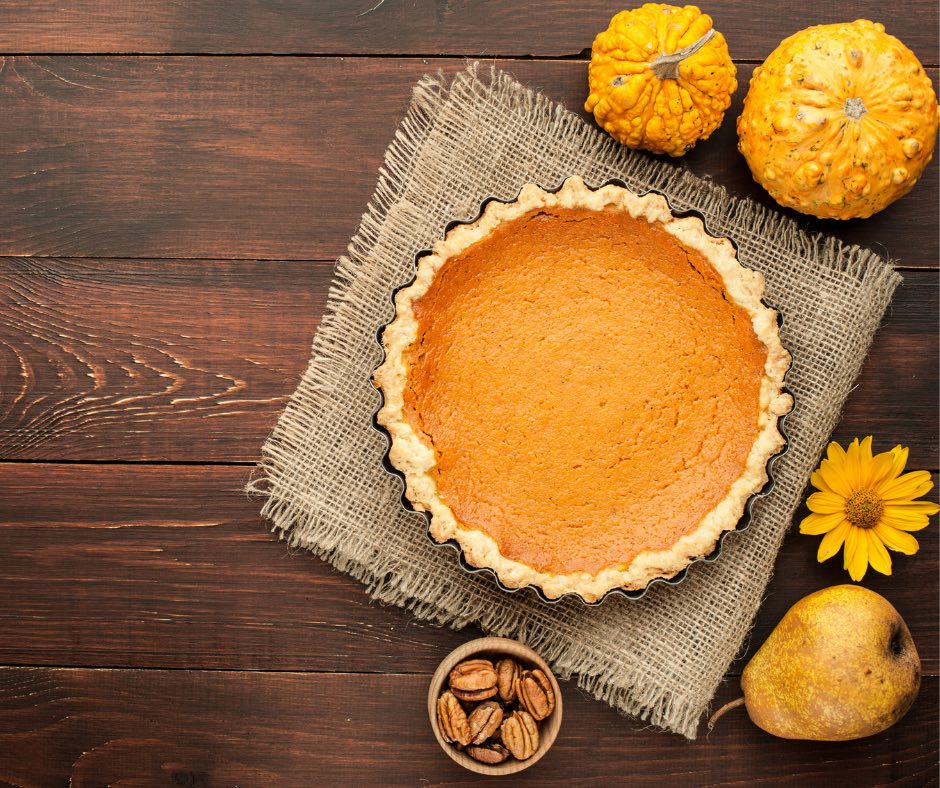 Ingredients
1 (8 oz) package of cream cheese, softened
2 cups canned pumpkin, mashed
1 cup of sugar
1/4 teaspoon salt
1 egg plus two egg yolks, slightly beaten
1 cup half-and-half
2 tablespoons melted regular butter
2 tablespoons melted cannabutter (more or less, depending on potency)
1 teaspoon vanilla extract
1/2 teaspoon ground cinnamon
1 piece pre-made pie dough
Whipped cream, for topping

Preheat oven to 350 degrees.
Place your pre-made pie dough into a 9-inch pie pan and press down along the bottom and sides. Pinch and crimp edges to create a pie crust pattern. Place the pie shell in the freezer for 1 hour. Remove from the freezer and fit a piece of aluminum foil inside the pie crust to completely cover the shell. Fill the shell with pie weights (or use dried beans or uncooked rice if you don't have pie weights). Bake for 10 minutes. Remove from oven and remove pie weights and aluminum foil. Bake for another 10 minutes or until the pie crust is dried out and beginning to color.
While your pie crust is baking, make your pie filling. In a large mixing bowl, beat cream cheese with a hand mixer. Add pumpkin and beat until combined. Add sugar and salt, and beat until combined. Add eggs and egg yolks, half-and-half, melted butter, and melted cannabutter, and beat until combined. Lastly, add your vanilla and cinnamon, and beat until combined.
Pour your pie filling into your prepared pie crust. Bake for 50 minutes or until the center of the pie has set.
Cool to room temperature. Cut and serve, topping with whipped cream if desired.
Enjoy!
The Main Event – Cannabutter Basted Turkey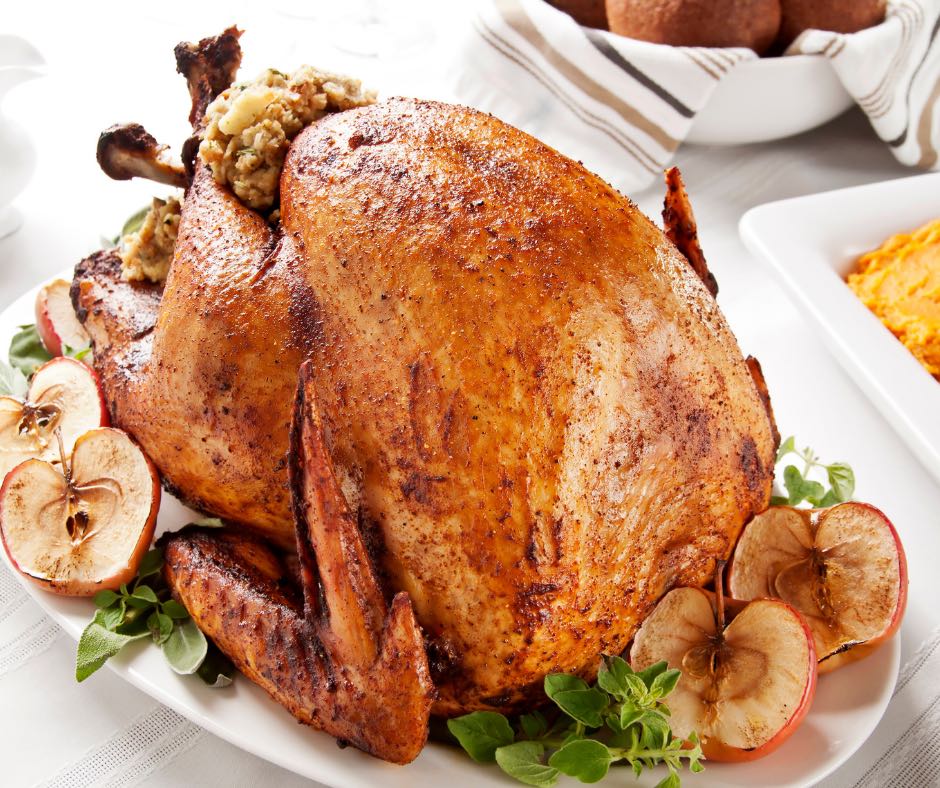 Cannabutter-Basted turkey is a simple recipe. Take your favourite turkey recipe and instead of coating with regular butter, use cannabutter!