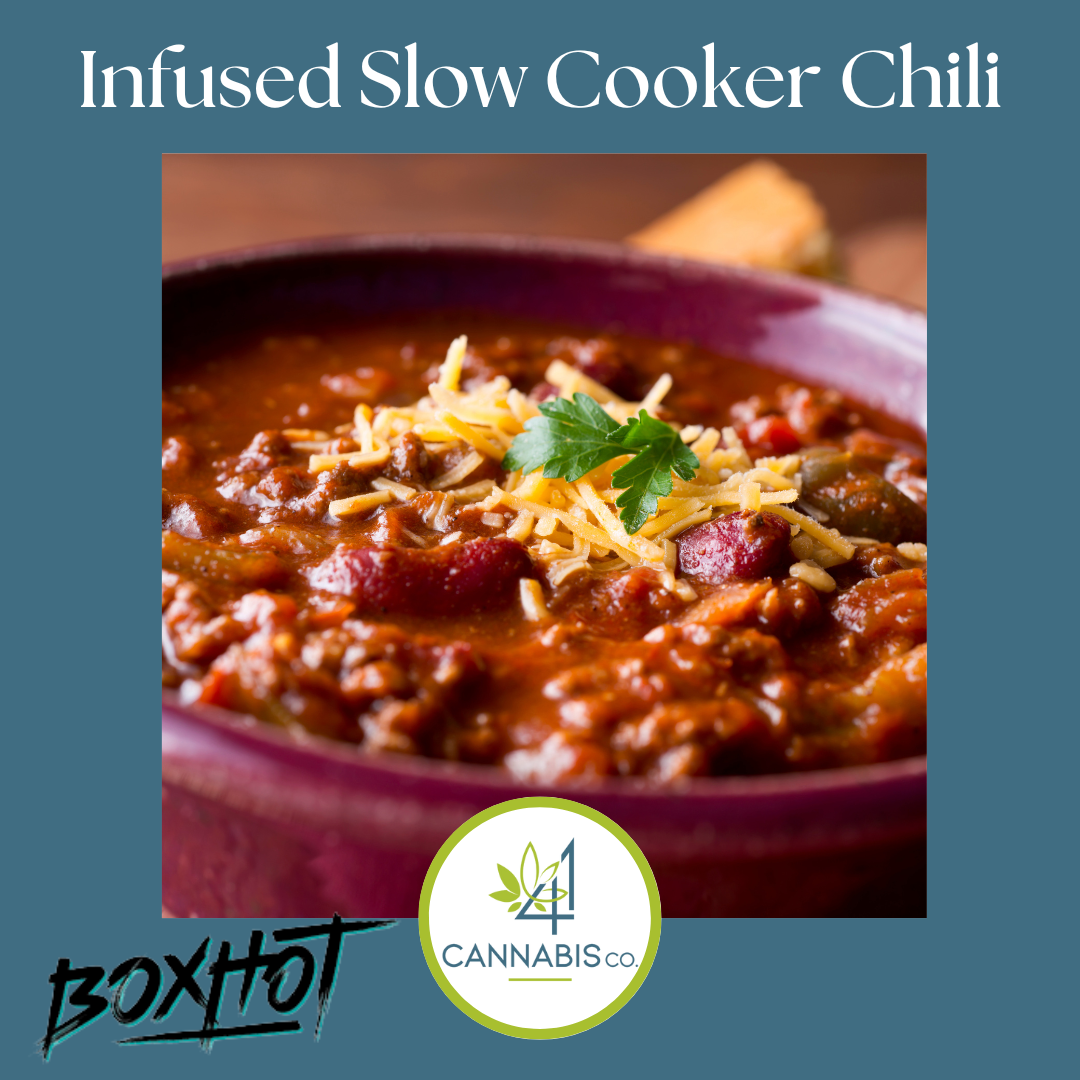 Infused Slow Cooker Chili
INGREDIENTS:
For the chili seasoning:
2 tablespoons ground chili powder

1 tablespoon ground cumin

1 tablespoon dried oregano

1 tablespoon garlic powder (optional)

2 teaspoons chipotle chili powder (optional)
For the chili:
1-2 tablespoons infused olive oil (see #41cBlog for recipe)

1 pound ground beef, preferably ground chuck

1/2 teaspoon kosher salt

2 (15-ounce) cans dark kidney beans, drained and rinsed

1 (15-ounce) can diced tomatoes

1 (6-ounce) can tomatoe paste

1 cup low-sodium beef broth, chicken broth, beer, or water

1 teaspoon apple cider vinegar
For serving (optional):
Shredded cheddar cheese

Chips or crackers, such as Fritos, tortilla chips, saltines, or oyster crackers

Infused Sour cream (see #41cBlog for recipe)

Sliced green onions
INSTRUCTIONS:
Make the chili seasoning. Place the chili powder, cumin, oregano, garlic powder, and chipotle chili powder in a small bowl. Whisk with a fork to combine.

Preheat the slow cooker. Set a 4-quart or larger slow cooker to low and allow it to heat while the beef browns.

Brown the ground meat. Heat the oil in a large cast iron skillet over medium-high heat until shimmering. Add the beef, season with the salt, break the meat up into large pieces. Let the meat brown without moving for 4 to 5 minutes. Break the meat up into smaller pieces and continue to cook until mostly cooked through, 2 to 3 minutes more.

Combine the beef, beans, tomatoes, and broth in the slow cooker. Transfer the browned meat to the slow cooker. Add at least 3 tablespoons of the chili seasoning (save the remainder for another use). Add the beans, tomatoes, tomato paste, and broth. Stir to combine.

Cook on low for 8 hours. Cover and cook the chili on the LOW setting for 8 hours. Avoid stirring it too often or you'll break down the beans.
Add the cider vinegar and serve. Stir in the cider vinegar just before serving. Serve with garnishes if desired