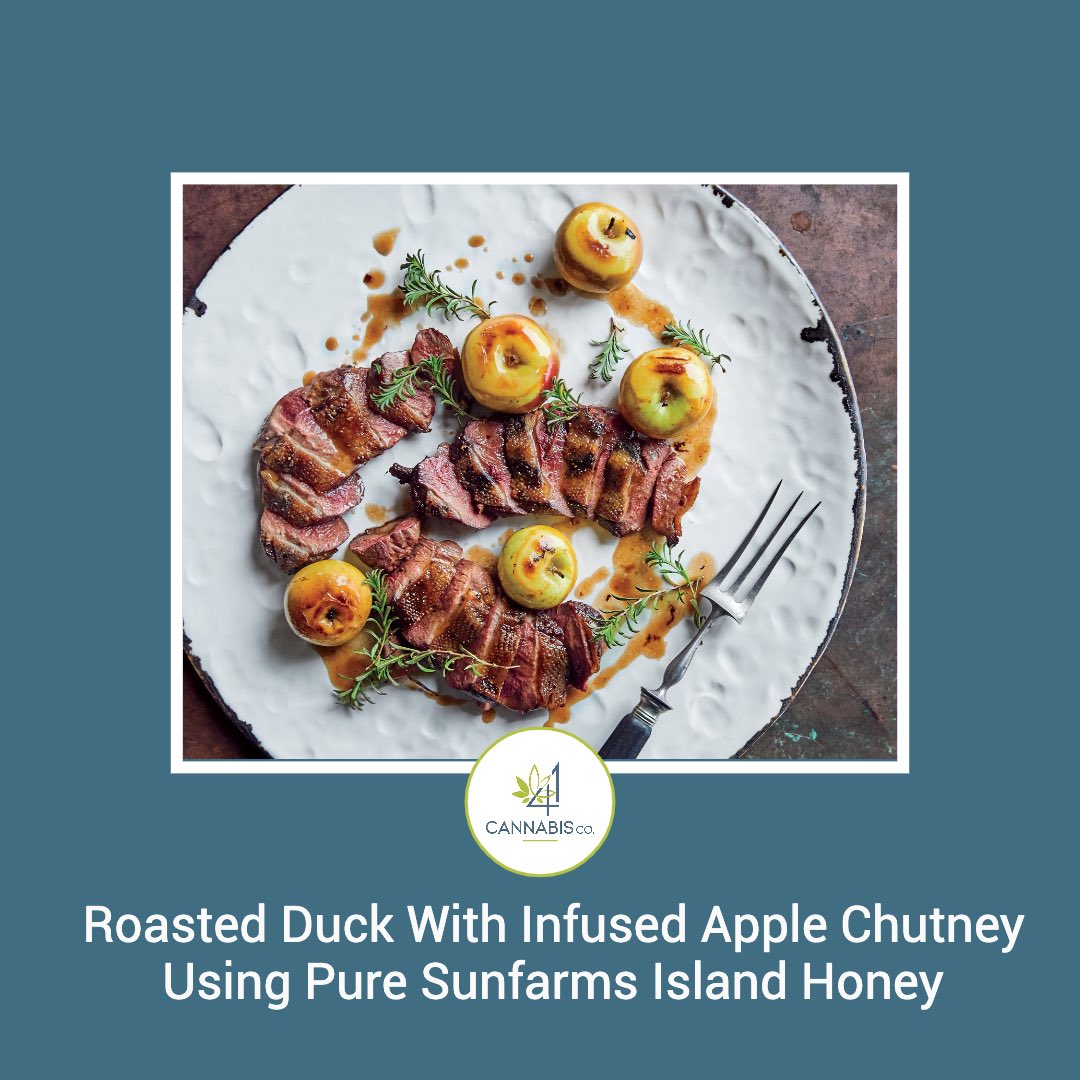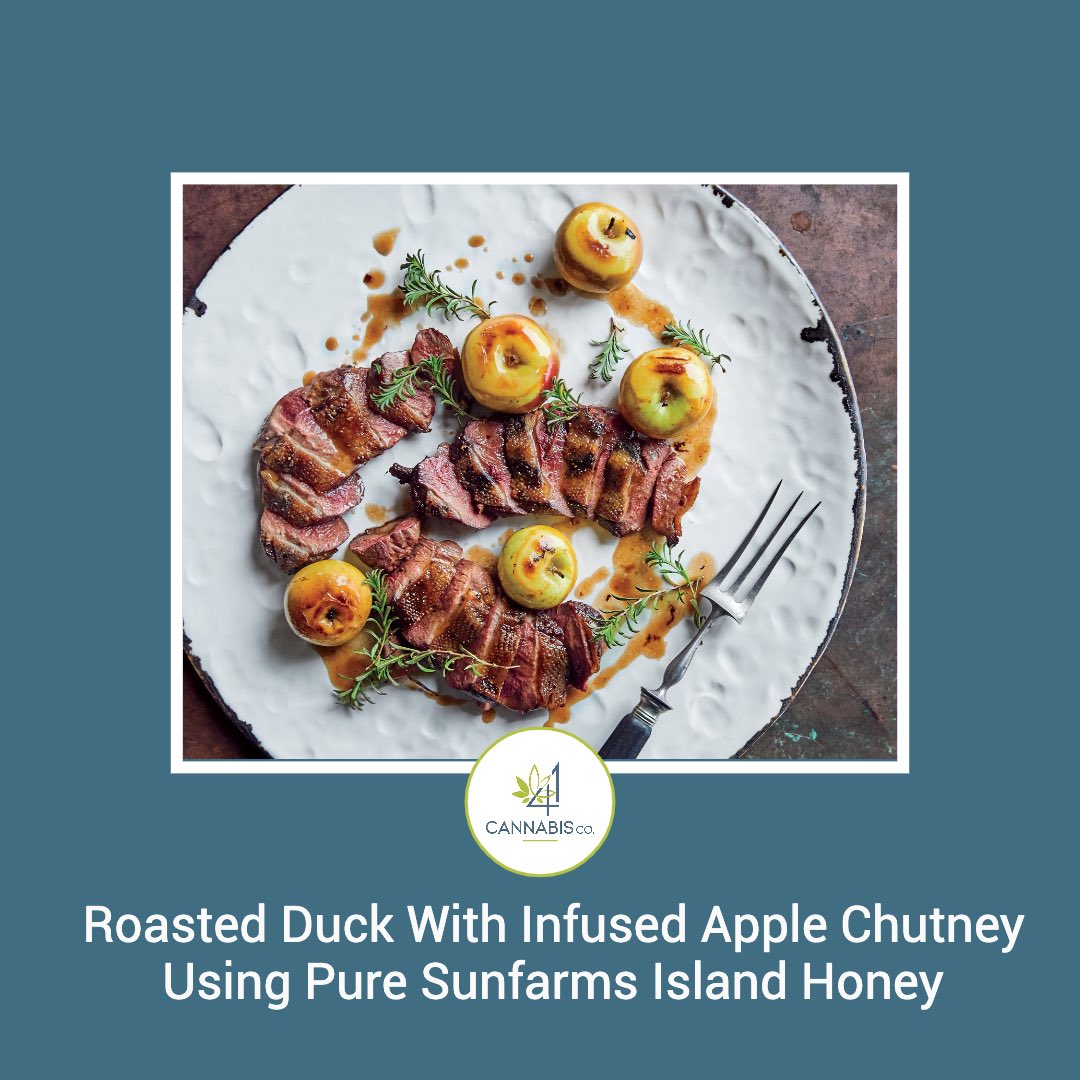 It's #MunchieMonday! This week's featured recipe is Roasted Duck with Infused Apple Chutney using Pure Sunfarms Island Honey! This recipe is perfect for a fancy dinner with some added fun.
INGREDIENTS
• 2 ducks, gutted and plucked, each duck cut into two halves of a boneless breast attached to a whole leg (4 pieces total)
• Vegetable or canola oil
• Kosher salt
• Freshly ground black pepper
• Apple Chutney (below, or substitute store-bought)
Apple Chutney
• 2 lbs. Granny Smith apples (about 4 apples)
• 1 tbsp. mustard seeds
• 1 tsp. cumin seeds
• 1 onion, peeled and diced small
• 6 cloves garlic, minced
• 2 tbsp. grated fresh ginger
• 2 tbsp. turmeric
• 1 serrano pepper, seeded and finely chopped
• Lemon juice
• 3 tbsp. vegetable oil
• 3/4 cup brown sugar
• 3/4 cup apple cider vinegar
• 1/4 cup golden raisins
• 1/4 cup dried cranberries
• Kosher salt
• 1/4 cup lemon juice (optional)
PREPARATION
• Preheat the oven to 375° .
• Lightly oil a heavy cast-iron pan (I brush mine with oil and remove the excess with a paper towel).
• Heat the pan on the stovetop over medium-high heat until very hot.
• Season the duck on both sides with salt and pepper.
• Sear the duck halves skin side down, pressing it down so that the duck skin has maximum contact with the hot pan. You want to get the skin crisp and golden; a large duck takes close to 10 minutes.
• Using tongs, lift up the duck halves and check to see if there are any feathers poking up from the skin.
• If so, burn them off with a lighter, a kitchen torch, or the stove burner.
• Flip the duck halves so the skin side is up.
• Set the pan in the oven and roast 5-8 minutes, or until the internal temperature is 135°-140° for medium-rare.
• The juices should be pink and oily but not bloody, and the breast meat should look pink.
• Remove from the oven and let rest for a few minutes. Separate the leg from the breast meat and slice the breast thinly.
• Serve with Apple Chutney.
Apple Chutney
• Peel and core the apples, and cut into 1/3-inch cubes.
• Toss with enough lemon juice to coat the apple pieces and prevent them from browning.
• In a large saucepan over medium heat, combine the oil, mustard seeds, and cumin seeds.
• Cook until the seeds start to toast and pop. Add onion and cook until cara­melized, about 6 minutes.
• Add the garlic, ginger, turmeric, and serrano pepper and cook over medium-high heat until fragrant.
• Add the brown sugar and stir until it begins to dissolve, about 2 minutes.
• Add the vinegar and bring to a simmer.
• Cook for about 10 minutes to combine the flavors.
• Add the diced apples, raisins, and cranberries.
• Cook for about 15 minutes until the apples are softened.
• Add infused honey and cook over low heat until thickened.
• Adjust seasoning with salt, honey, or additional lemon juice, as needed