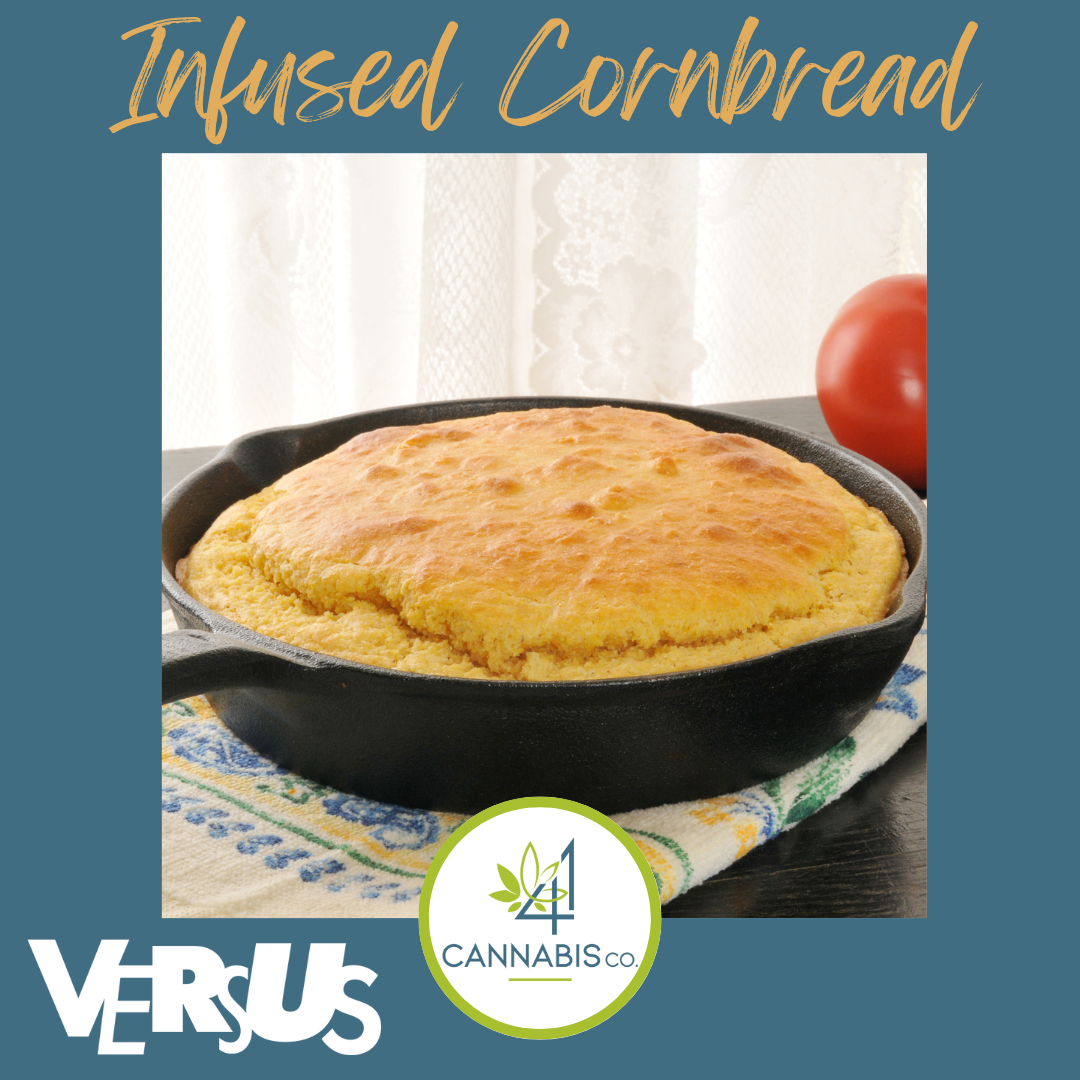 Infused Cornbread
Ingredients
10 TBSP (140 gr) unsalted Cannabutter, divided (see 41cBlog for recipe)

2 cups (240 gr) cornmeal (good quality stone ground cornmeal preferred)

1/2 cup (60 gr) all-purpose flour

1 1/2 tsp baking powder

1/2 tsp baking soda

2 tsp kosher salt (use half if using salted cannabutter)

2 TBSP (25 gr) sugar

1 1/2 cup (355 ml) buttermilk, room temperature (*see note for substitution)

2 large eggs, room temperature
Instructions
Position your oven rack in the center of the oven and place a well seasoned 10″ or 12″ cast iron skillet inside. Preheat your oven to 450F (232C). This will preheat your skillet to help achieve a very crispy bottom to your cornbread. Alternatively, if you do not have a cast iron skillet you may use a 9″ round or square metal or glass baking dish for this recipe, but you should not preheat them in the oven.

Meanwhile, melt your butter. Once completely melted, divide out about 2 TBSP. This will be used to grease your skillet. The rest of the butter will go into the cornbread. Set both aside to cool slightly.

In a large mixing bowl combine the cornmeal, all-purpose flour, baking soda, baking powder, salt, and sugar. Whisk together until combined.

Add in your buttermilk, eggs, and the larger amount of melted butter and stir until everything is just incorporated. You don't want to over-mix.

Carefully remove the hot cast iron skillet from the oven. Add the 2 TBSP butter you divided out to the pan and swirl around until the bottom is coated. Pour your cornbread batter into the skillet and immediately place skillet back into the hot oven. If you are using a baking dish instead of a cast iron skillet, coat it with the reserved melted butter.

Cook at 450F (232C) for about 20 minutes or until a tester comes out with moist crumb from the center. If you want a crispier top, put it under the broiler for 1-2 minutes, watching it very closely.

As an optional extra step in increase the moistness of this cornbread, run a stick of butter over the top of the bread while it is still hot. The butter will melt down into the bread and keep it extra moist and delicious! Use as much as you like of the stick. I just rub it all over until it is well coated.