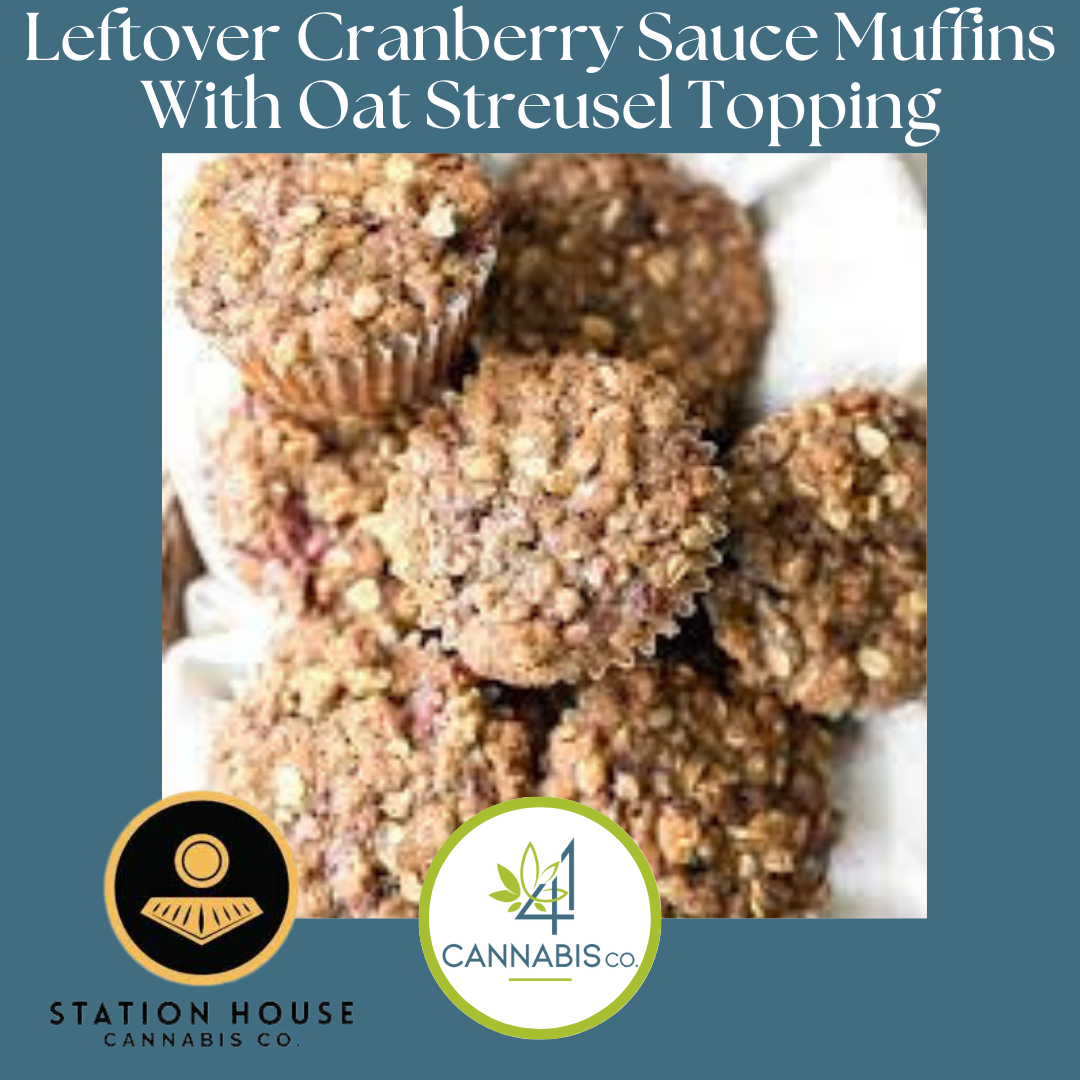 Leftover Cranberry Sauce Muffins With Oat Streusel Topping
INGREDIENTS:
1 + ½ cups all-purpose flour

1 cup old-fashioned rolled oats

1 teaspoon baking powder

1 teaspoon baking soda

¼ teaspoon salt

1 teaspoon ground cinnamon

⅓ cup unsalted butter, softened to room temperature

½ cup brown sugar

½ cup milk

1 egg

1 teaspoon vanilla extract

1 + ¼ cups Our Cannabis Infused Cranberry Sauce

(see 41c Blog for recipe)
Oat Streusel Topping:
3 tablespoons brown sugar

3 tablespoons old-fashioned rolled oats

3 tablespoons all-purpose flour

3 tablespoons unsalted butter, cold and grated

½ teaspoon cinnamon
INSTRUCTIONS:
Preheat the oven to 400°F. Line a standard 12-cup muffin pan with cupcake liners and lightly coat with nonstick baking spray. 

In a large mixing bowl, whisk together flour, oats, baking powder, baking soda, salt, and cinnamon. Set aside.

In a medium mixing bowl, cream together butter and sugar. Add in milk, egg, and vanilla and stir to combine. Note that the mixture will be lumpy.

Add the wet ingredients to the dry ingredients and give it a couple of stirs with a spatula. Do not fully combine. Then add in the cranberry sauce and stir until just combined. Do not overmix.

Divide batter evenly among the muffin liners. Fill each cup about ¾ full.

In a small bowl, mix together the oat streusel topping ingredients until combined and crumbly. Sprinkle a spoonful on top of each muffin.

Bake for 18-20 minutes until a toothpick comes out clean. Allow muffins to cool in the muffin tray for 5 minutes before transferring muffins onto a wire cooling rack to cool completely.