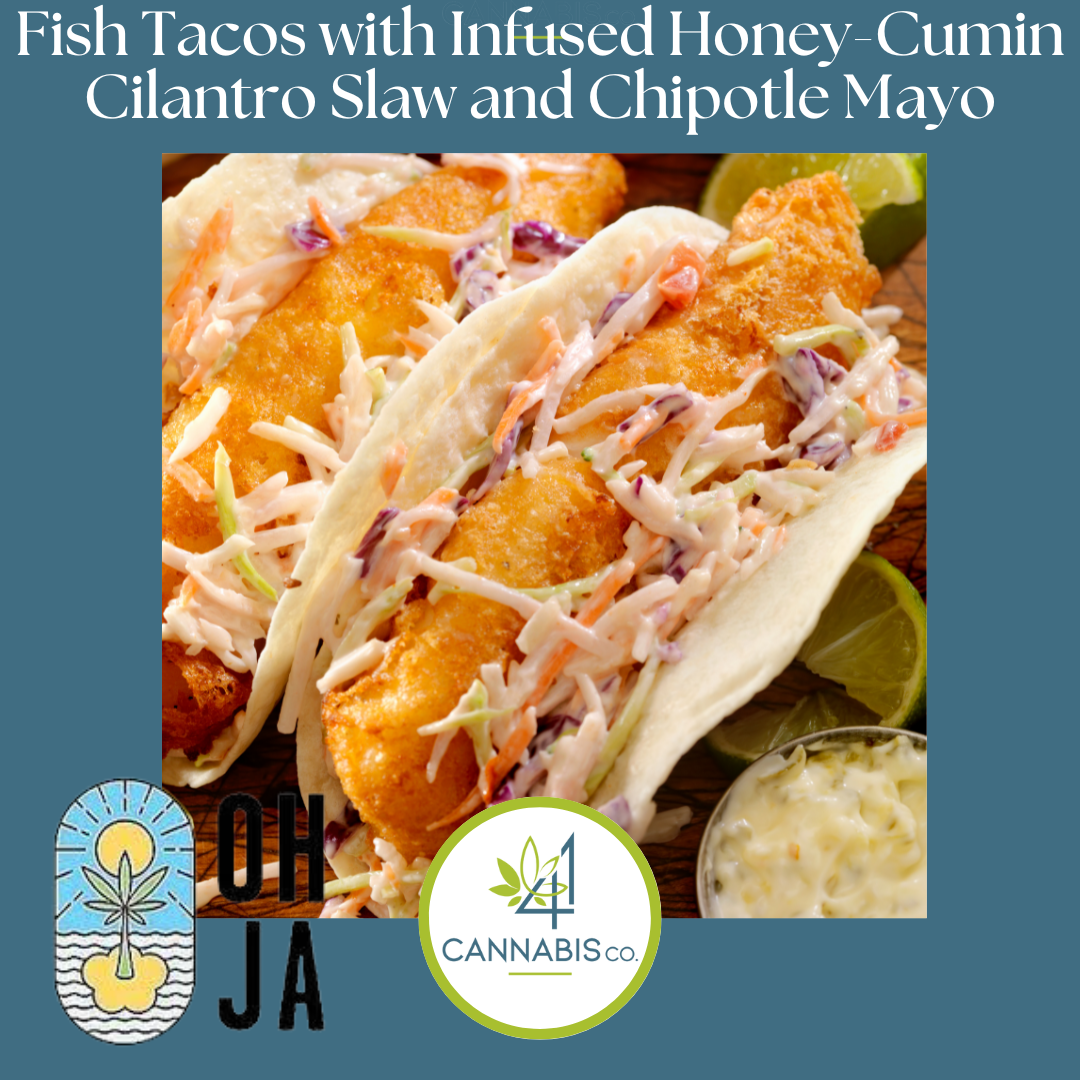 Fish Tacos With Infused Honey-Cumin Cilantro Slaw & Chipotle Mayo
INGREDIENTS:
1 pound tilapia fillets, cut into chunks

½ cup fresh lime juice

⅓ cup fresh lime juice

2 tablespoons infused honey (see 41cBlog for recipe)

1 tablespoon vegetable oil

1 teaspoon ground cumin

½ cup infused mayonnaise (see 41cBlog for recipe)

2 chipotle chilies in adobo sauce

1 tablespoon adobo sauce from chipotle pepper

¼ teaspoon salt

⅛ teaspoon cayenne pepper

⅓ cup all-purpose flour

2 eggs, lightly beaten

2 cups panko crumbs

salt and ground black pepper to taste

1 cup vegetable oil for frying

2 cups 3-colour coleslaw blend

1 cup minced fresh cilantro leaves.

8 (7-inch) flour tortillas, warmed
INSTRUCTIONS:
Place tilapia in a flat dish; pour 1/2 cup lime juice on top. Cover and refrigerate for at least 4 hours.

Meanwhile, make infused honey-cumin sauce by whisking together 1/3 cup lime juice, infused honey, 1 tablespoon vegetable oil, and ground cumin in a small bowl; set aside until needed.

To make chipotle mayonnaise dressing, place infused mayonnaise, chiles, adobo sauce, 1/4 teaspoon salt, and cayenne pepper in the bowl of a food processor: pulse until smooth. Cover and refrigerate until needed.

Place flour, eggs, and panko crumbs in three separate shallow dishes. Season tilapia pieces with salt and pepper to taste; dip in flour to coat evenly and shake off any excess. Then dip in eggs to coat, then panko crumbs, patting to help bread crumbs hold. Set breaded pieces aside on a plate.

Heat 1 cup vegetable oil in a deep skillet to 365 degrees F (185 degrees C). Cook fish in hot oil, turning until all sides are golden brown, and the flesh is easily flaked with a fork; drain on paper towels and brush with honey-cumin sauce.